Why do pet owners choose us?
We know how much you love your pets. We love ours too. This is why Agria has always approached pet insurance uniquely. As pet insurance specialists, we work closely with animal welfare organisations, vets and breeders to ensure pets and their owners are provided with the most comprehensive policies. Agria's mission is to provide the highest level of care for pets and peace of mind for their owners.
In 2022, Agria acquired Ireland's leading pet insurance company, Petinsure, to form Agria Petinsure, bringing over 130 years of knowledge and expertise about pets and pet health to Ireland.
Questions about pet insurances
Why should I insure my dog or cat?
3 Out Of 4 Pets Require Unforseen Veterinary Care. New treatments are now available for dogs and cats, but they are increasingly expensive.
Pet insurance protects you from major vet bills. Agria Petinsure covers a range of expenses for illnesses, diseases and injuries. Getting a dog insurance or cat insurance mean you can focus on the health of your pet and not on treatment costs.
Can pets be covered for life?
Agria Petinsure believes lifetime cover is essential to providing quality pet insurance. We cover your pet for life as long as you renew your policy and if the insurer agrees to renew it. Lifetime cover is subject to the terms and conditions of the policy. Please read terms and conditions carefully.
What is an excess cost?
Excess is what a policy holder pays. The plan you choose will determine this. See 'Plans and Premium' for more on excess amounts.
Are vaccinations, check-ups, neutering and pregnancy covered?
Vaccinations, flea, tick and deworm treatments, neutering and pregnancy are not covered. As a pet owner you are responsible for the routine care of your pet. Agria Petinsure is there to assist you with the cost of unforeseen illness and injury only.
Would you still insure my old or ill pet?
Pets can be accepted up to 5 years old. No matter how ill your pet becomes or how many claims you make, your maximum benefit will always be reinstated when you renew your pet's policy.
Agria Petinsure: what does it mean for me?
From the 1st of February 2023, Petinsure will be rebranded as Agria Petinsure. Agria is a Swedish insurance company authorised by the Swedish Financial Supervisory Authority (Finansinspektionen) and a leading European pet insurance company with over 130 years of experience. 
Compare our Pet Insurance plans
Agria Accident
Fixed price
2.11
eur / week
Vet Fees €2,000
3rd Party Liability €250,000
Death by Accident €1000
Death from Illness
Euthanasia and/or Cremation
Lost & Found (Advertising & Recovery)
Theft/Straying
Boarding Kennel/Cattery Fees
Holiday Cancellation
Excess €90.00
Agria Care Plan
From as little as
2.29
eur / week
Vet Fees €4,000

3rd Party Liability €250,000

Death by Accident €1000

Death from Illness €1000

Euthanasia and/or Cremation €100
Lost & Found (Advertising & Recovery) €500

Theft/Straying €1000

Boarding Kennel/Cattery Fees €1000

Holiday Cancellation €1000

Excess €150
Agria Care Plus
Best value, from as little as
2.67
eur / week
Vet Fees €4,000
3rd Party Liability €250,000
Death by Accident €1000
Death from Illness €1000
Euthanasia and/or Cremation €100
Lost & Found (Advertising & Recovery) €500
Theft/Straying €1000
Boarding Kennel/Cattery Fees €1000
Holiday Cancellation €1000
Excess €90
*Based on discounted premium for first year only for dog insurance and cat insurance.
Important Information
Inclusions:
With Agria Petinsure, conditions that you may have claimed for during the current policy year are not excluded from cover after renewal.
Our policy doesn't limit the amount or the period you can claim. We provide what is referred to as 'Lifetime Cover*'.
All insurers, including Agria Petinsure charge 'the excess' per condition per policy year. This is not affected by the amount of your claim and is specified in our terms and conditions.
Exclusions:
There are some exclusions, all of which you can read about in this document: Breed specific exclusions, age at entry and waiting period.
In order to maintain cover after your pet reaches 5 years of age, you must keep it vaccinated for its entire life. You must also show that you have taken it to the vet at least once a year while in your possession.
There is no cover for Veterinary Fees, Death from Illness and Holiday Cancellation for the first 14 days of the Policy.
At Agria Petinsure we offer discounts for
Microchipped pets (First Year)
Online Applications (First Year)
Multi-pet Applications
To see what great value we offer, please complete a quotation and call 021 202 9119 if you have any questions. We offer a 21-day money back guarantee, which means you can cancel without question within 21 days of enrolling.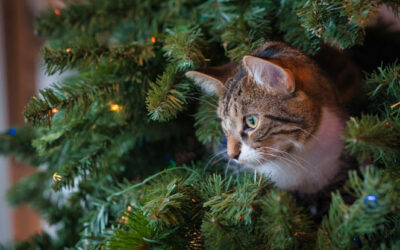 Christmas Gift Ideas for Your Cat  Is it a good idea to gift your kitty something special beneath the Christmas tree this year? Explore these helpful tips! Only your imagination sets limits to what you can give - and remember that cats are not particularly...
read more